Refreshingly succulent, tart and sweet mulberries are indeed rich in numerous health benefiting flavonoid phyto-nutrients. Botanically, they are the berries obtained from the silkworm tree belonging to the
Moraceae
family, within the genus:
Morus.
Scientific name:
Morus nigra. L.
In Spanish, they are known as
moras.
More than hundred species of morus exist. In taxonomy, species generally are identified not by the color of their fruits (berries) but by the color of flower buds, and leaves. So, a morus plant can exhibit different color berries (black, purple, red, white, etc.) in the same plant.
Mulberry-Morus alba.
A white mulberry plant can have different color fruits.
Moras buds and flowers.
Photo courtesy: mauroguanandi.
Three species have been recognized for their economic importance.
White mulberry (Morus alba) is native to eastern and central China.

Red or American mulberry (Morus rubra) is native to eastern United States.

Black mulberry (Morus nigra) is native to western Asia.
Mulberries are large, deciduous trees native to the warm, temperate, and subtropical regions of Asia, Africa, and the Americas. Technically, mulberry fruit is an aggregation of small fruits arranged concentrically around the central axis as in blackberry or loganberries. Each fruit measures 2-5 cm in length. In most species, mulberries are purple-red when ripen; however, they can be white, red, purple or multiple variegated colors in the same fruit.
Health benefits of mulberries
Delicious, fleshy, succulent mulberries are less in calories (just 43 calories per 100 g). They compose of health promoting phyto-nutrient compounds like polyphenol pigment antioxidants, minerals, and vitamins that are essential for optimum health.

Mulberries have significantly high amounts of phenolic flavonoid phytochemicals called

anthocyanins.

Scientific studies have shown that consumption of berries have potential health effects against cancer, aging and neurological diseases, inflammation, diabetes, and bacterial infections.

The berries contain

resveratrol,

another polyphenol flavonoid antioxidant. Resveratrol protects against stroke risk by altering molecular mechanisms in the blood vessels; reducing their susceptibility to damage through reduced activity of angiotensin (a systemic hormone causing blood vessel constriction that would elevate blood pressure) but potentiating production of the vasodilator hormone,

nitric oxide.

In addition, these berries are an excellent sources of vitamin-C (36.4 mg per 100, about 61% of RDI), which is also a powerful natural antioxidant. Consumption of foods rich in vitamin-C helps the body develop resistance against infectious agents, counter inflammation and scavenge harmful free radicals.

Further, the berries also contain small amounts of vitamin A, and vitamin E, in addition to the above-mentioned antioxidants. Consumption of mulberry provides another group of health promoting flavonoid polyphenolic antioxidants such as lutein, zea-xanthin, ß-carotene and a-carotene in small but notably significant amounts. Altogether, these compounds help act as protect from harmful effects of oxygen-derived free radicals and reactive oxygen species (ROS) that play a role in aging and various disease processes.

Zea-xanthin,

an important dietary carotenoid selectively concentrates into the retinal macula lutea, where it thought to provide antioxidant functions and protects the retina from the harmful ultraviolet rays through light-filtering actions.

Mulberries are an excellent source of iron, which is a rare feature among berries, contain 1.85 mg/100 g of fruits (about 23% of RDI). Iron, being a component of hemoglobin inside the red blood cells, determines the oxygen-carrying capacity of the blood.

They also good source of minerals like potassium, manganese, and magnesium. Potassium is an important component of cell and body fluids that helps controlling heart rate and blood pressure. Manganese is used by the body as a co-factor for the antioxidant enzyme, superoxide dismutase.

They are rich in B-complex group of vitamins and vitamin K. Contain very good amounts of vitamin B-6, niacin, riboflavin and folic acid. These vitamins are function as co-factors and help body in the metabolism of carbohydrates, protein, and fats.
Selection and storage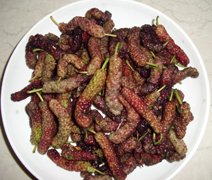 Mulberries.
Black mulberries, in particular, are more flavorful and tasty than their fellow white, and red varieties. Their peak season is May through August, while the latter two varieties can be readily available until late spring.
In the local stores, look for fleshy berries flavorful and heavy in hands. Avoid bruised, bleeding and sunken berries.
Mulberries spoil rather quickly. Once at home, preserve them in a zip pouch unwashed, and place inside the refrigerator where they stay fresh for up to 2-3 days. To eat, wash the berries in cold water in a container (bowl) instead of in running water. This way, you avoid injuring them. This method also brings the berries to room temperature and enhances their flavor and taste.
Preparation and serving methods
After cleaning, gently pat them dry using soft cloth. Take care not to squeeze or press the berries, else they will deface, and stain cloth, hand, etc. Then, trim away its stem end by simply pinching off with fingers or either using a small scissors or paring knife.
The berries have found their unique place in the kitchen, be it a simple mulberry pie, or somewhat, more complicated mulberry wine. They are also favored in variety of recipes.
Here are some serving tips:
Fresh mulberries are generally eaten as they are, without any seasonings/additions.

They combine well with other berry salads.

They can be a great snack between meals.

Mulberries are favored in jams, jellies, tart syrups, etc.

Dried mulberries can be used in pie fillings, mulberry muffins, cookies, cakes, etc.